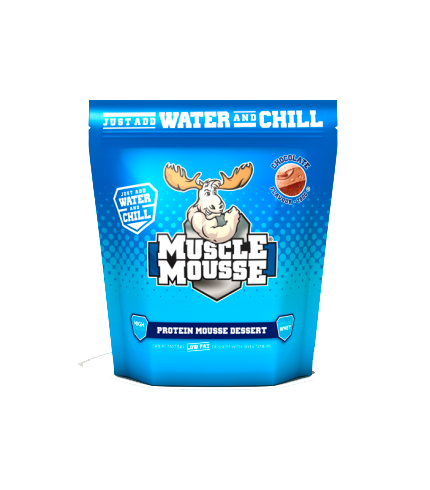 Milk Chocolate Muscle Mousse
(750G)
Milk Chocolate Muscle Mousse is one of our most popular flavours, who doesn't love chocolate?! Mix up some mousse for 30g of slow-release protein in this luxurious, gluten free, silky smooth protein dessert that you can enjoy any time of day, especially before bed.
Mixing instructions
Add 50g (2 scoops) to 150ml water in a shaker bottle (can also be mixed in a bowl with a whisk) and shake vigorously for approximately 20 -30 seconds. Pour in to a bowl and allow to set (preferably in a refrigerator) for a minimum of 30 minutes, enjoy. Once mixed Muscle Mousse® dessert must be kept refrigerated and consumed within 48 hours.
Gluten Free: Yes
Allergen Warnings: Milk. Egg
Dairy Free: No
Ingredients
Protein Blend: (Milk Protein Concentrate (MILK), Whey Protein Concentrate (MILK), Egg Albumen (EGG)), Reduced Fat Cocoa Powder, Gelatine, Flavourings, Waxy Maize Starch, Leucine, Sweeteners (Sucralose, Steviol Glycosides), Sodium Chrloride.
Nutritionals
| | | |
| --- | --- | --- |
| Nutritional Breakdown** | Per 100g | Per 50g Serving |
| Energy kcal | 346 | 173 |
| Energy kj | 1460 | 730 |
| Protein | 61.1g | 30.6g |
| Carbohydrate | 16.0g | 8.0g |
| of which sugars | 11.4g | 5.7g |
| Fat | 2.3g | 0.84g |
| of which Saturates | 1.4g | 0.7g |
| Salt | 0.47g | 0.23g |
| Minerals | Per 100g | Per 50g Serving |
| Calcium (mg) | 1545 (193%*) | 773 (97%*) |
| Potassium (mg) | 1427 (71%*) | 714 (36%*) |
| Magnesium (mg) | 158 (42%*) | 79 (21%*) |
| Phosphorus (mg) | 1008 (144%*) | 504 (72%*) |