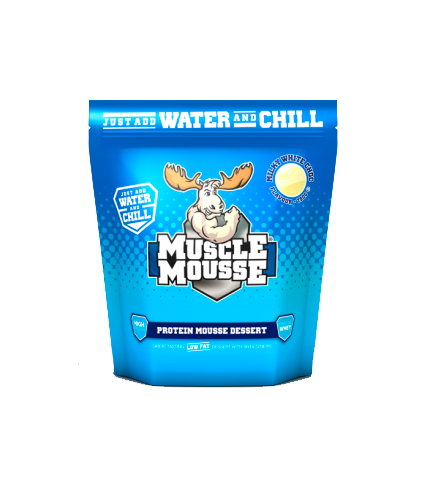 Milky White Choc Muscle Mousse
(750G)
Milky White Choc Muscle Mousse is a silky-smooth milky protein dessert that is a go-to flavour whatever your mood – especially if you're hangry! Milky White Choc tastes great topped with fresh fruit, nuts or dark chocolate, or simply enjoy as your pre-bed snack that packs 30g slow-release protein per serving at only 178 calories.
Mixing instructions
Add 50g (2 scoops) to 150ml water in a shaker bottle (can also be mixed in a bowl with a whisk) and shake vigorously for approximately 20 -30 seconds. Pour in to a bowl and allow to set (preferably in a refrigerator) for a minimum of 30 minutes, enjoy. Once mixed Muscle Mousse® dessert must be kept refrigerated and consumed within 48 hours.
Gluten Free: Yes.
Allergen Warnings: Milk. Egg.
Dairy Free: No.
Ingredients
Protein Blend: (Milk Protein Concentrate (MILK), Whey Protein Concentrate (MILK), Egg Albumen (EGG)), Reduced Fat Cocoa Powder, Gelatine, Flavourings, Waxy Maize Starch, Leucine, Sweeteners (Sucralose, Steviol Glycosides), Sodium Chrloride.
Nutritionals
| | | |
| --- | --- | --- |
| Nutritional Breakdown** | Per 100g | Per 50g Serving |
| Energy kcal | 346 | 173 |
| Energy kj | 1460 | 730 |
| Protein | 61.1g | 30.6g |
| Carbohydrate | 16.0g | 8.0g |
| of which sugars | 11.4g | 5.7g |
| Fat | 2.3g | 0.84g |
| of which Saturates | 1.4g | 0.7g |
| Salt | 0.47g | 0.23g |
| Minerals | Per 100g | Per 50g Serving |
| Calcium (mg) | 1545 (193%*) | 773 (97%*) |
| Potassium (mg) | 1427 (71%*) | 714 (36%*) |
| Magnesium (mg) | 158 (42%*) | 79 (21%*) |
| Phosphorus (mg) | 1008 (144%*) | 504 (72%*) |