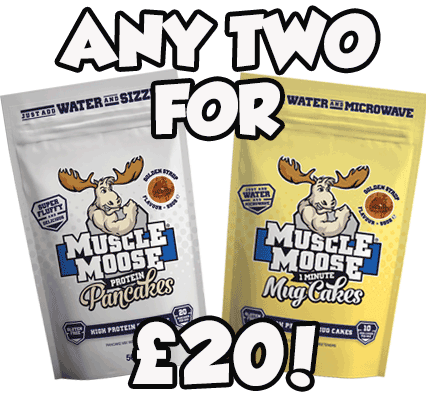 Pancakes & Mug Cakes – 2 for £20!
(2x500G)
Want Protein Pancakes AND 1 Minute Mug Cakes? No problem – you can have both for just £20! How about two bags of 1 Minute Mug Cakes? You got it – just £20 for two bags!
Want to know more about Protein Pancakes and 1 Minute Mug Cakes? We can help with that!
Muscle Moose Protein Pancakes are what breakfast was invented for. These extra fluffy, easy to make pancakes are a taste sensation. The world is your oyster when it comes to toppings – fresh berries, banana, peanut butter and more (not oyster though, no one wants that for breakfast!) – a perfect way to start your day!
Muscle Moose Mug Cakes are your high protein, gluten free daily treat of fluffy cakey goodness! There's no need to wait for after dinner to enjoy this cake mix – it's a great snack any time of day. Even better, no baking is required so you'll be saving time and increasing your protein intake – everyone wins!
Mixing instructions
Protein Pancakes 
Add 50g (2 scoops) of Muscle Moose Protein Pancake mix to 75ml water and whisk – you can shake it up in a shaker as well – make sure the lid is on! Pour the mixture into a lightly oiled hot frying pan – be careful! Turn your pancakes after approx. 2 minutes and continue cooking for a further minute, or until both sides are golden brown. Top and enjoy!
Gluten Free: Yes.
Allergen Warnings: Milk. Egg.
Dairy Free: No.
1 Minute Mugcakes 
Add 50g (2 scoops) of Muscle Moose Mug Cake mix to 50 – 60ml water in your favourite (microwave-safe) mug. We don't judge so feel free to whip out your favourite superhero mug with pride. Give the mixture a good stir until mixed well – you'll know when it's done! Pop your mug in the microwave and heat on full for 60 – 70 seconds, depending on how strong your microwave is. When you hear the ping, a delicious Muscle Moose Mug Cake will be ready for you to devour.
Gluten Free: Yes.
Allergen Warnings: Milk. Egg.
Dairy Free: No.
Ingredients
Protein Pancakes 
Protein Blend: (Whey Protein Concentrate (MILK), Pea Protein, Egg Albumin , Gluten Free Oat Flour, Modified Starch, Inulin, Flavourings, Acidity Regulator: Sodium Bicarbonate , Sweetener: (Sucralose)
1 Minute Mug Cakes
Gluten Free Flour: (Rice, Potato, Tapioca, Maize, Buckwheat), Collagen (Bovine), Egg Albumin, Skimmed Milk Powder, Inulin, MCT Powder: (Medium Chain Triglycerides, Glucose Syrup, Milk Protein), Flavouring, Caramalised Sugar Syrup, Emulsifier: (Gum Acacia), Raising Agent: (Sodium Bicarbonate), Thickeners: (Xanthan Gum, Cellulose Gum), Sweetener: (Sucralose)
Nutritionals
| | | |
| --- | --- | --- |
| Nutritional Breakdown Golden Syrup Protein Pancakes | Per 100g | Per 50g Serving |
| Energy kcal | 387 | 194 |
| Energy kj | 1636 | 818 |
| Fat | 7.4g | 3.7g |
| of which Saturates | 2.4g | 1.2g |
| Carbohydrate | 26.2g | 13.1g |
| of which sugars | 1.9g | 0.9g |
| Fibre | 3.2g | 1.6g |
| Protein | 52.4g | 26.2g |
| Salt | 1.24g | 0.62g |
| | | |
| --- | --- | --- |
| Nutritional Breakdown 1 Minute Mug Cakes | Per 100g | Per 50g Serving |
| Energy kcal | 372 | 186 |
| Energy kj | 1567 | 784 |
| Fat | 7.5g | 3.8g |
| of which Saturates | 5.0g | 2.5g |
| Carbohydrate | 32.3g | 16.1g |
| of which sugars | 6.4g | 3.2g |
| Fibre | 7.3g | 3.6g |
| Protein | 40.1g | 20.1g |
| Salt | 1.21g | 0.61g |