Banana and Pumpkin Loaf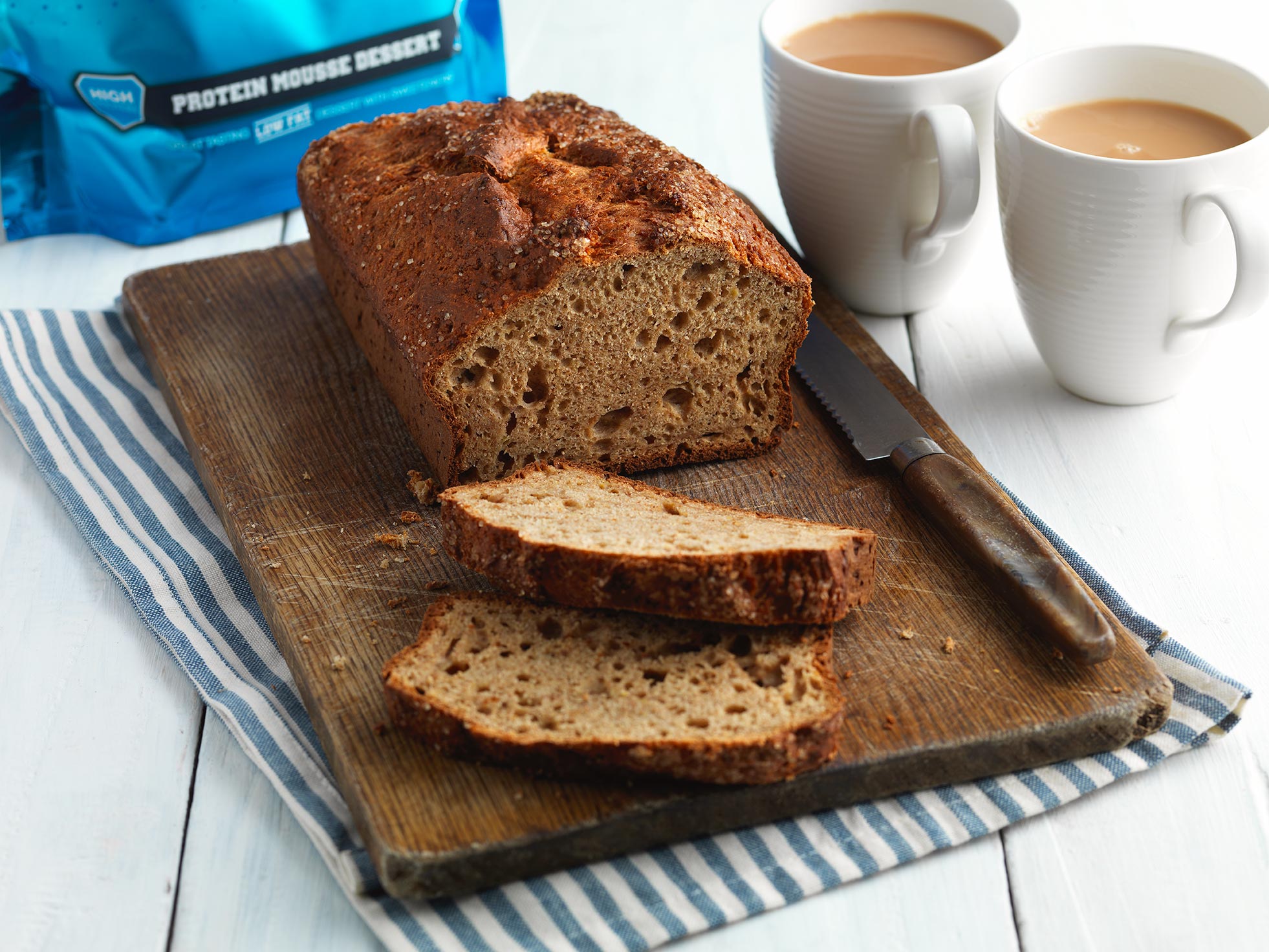 Our tasty banana and pumpkin loaf is low in saturated fat and is made with half wholemeal flour for added fibre and vitamins. Want to go sugar free? Swap out the demerara sugar for granulated stevia for a calorie free sugar alternative.
2 scoops (50g) Milky White Chocolate Muscle Mousse
150g self-raising flour
1tsp baking powder
150g wholemeal self-raising flour
½ tsp ground cinnamon
½ tsp ground mixed spice
50g plus 1 tsp demerara sugar
2 very ripe bananas (approx 180g peeled)
100g pumpkin puree
1 egg
2tbsp vegetable oil
50g Greek yogurt (choose a full fat one with a higher protein content if possible)
Preheat the oven to 170°C fan/ 190° conventional/ Gas 5. Line a large loaf tin with baking parchment.
Sift the white flour and baking powder into a large bowl and stir in the wholemeal flour, Muscle Mousse and spices. Whisk together briefly, then stir in the sugar.
Mash the bananas on a plate, add to a bowl with the pumpkin puree, yogurt, egg, oil and water and whisk to mix.
Add the pumpkin mixture to the dry ingredients and stir well – the mixture will be fairly stiff.
Spoon the mixture into the tin and spread evenly. Sprinkle over a little extra demerara sugar if desired to make a crunchy topping.
Place the tin onto a baking tray and bake for 30 minutes then turn and cover loosely with foil. Bake for a further 20 minutes. Check that the cake is cooked by inserting a skewer into the cake – if it comes out clean the cake is done.
Cool on a wire rack before slicing.
To make the pumpkin puree
Quarter the pumpkin then de-seed and discard the fibrous inner. Carefully remove the skin with a knife then chop into roughly 20cm cubes.
Steam for 15 minutes until tender then allow to cool slightly.
Whizz in a food processor until smooth then keep refrigerated or freeze in batches.
Alternatively, quarter the pumpkin and cut each quarter into about 3 wedges. Roast in a deep baking tray with 1cm of water for about 40 minutes or until tender then scoop out the flesh and process until smooth.