Chocolate and Blueberry Bars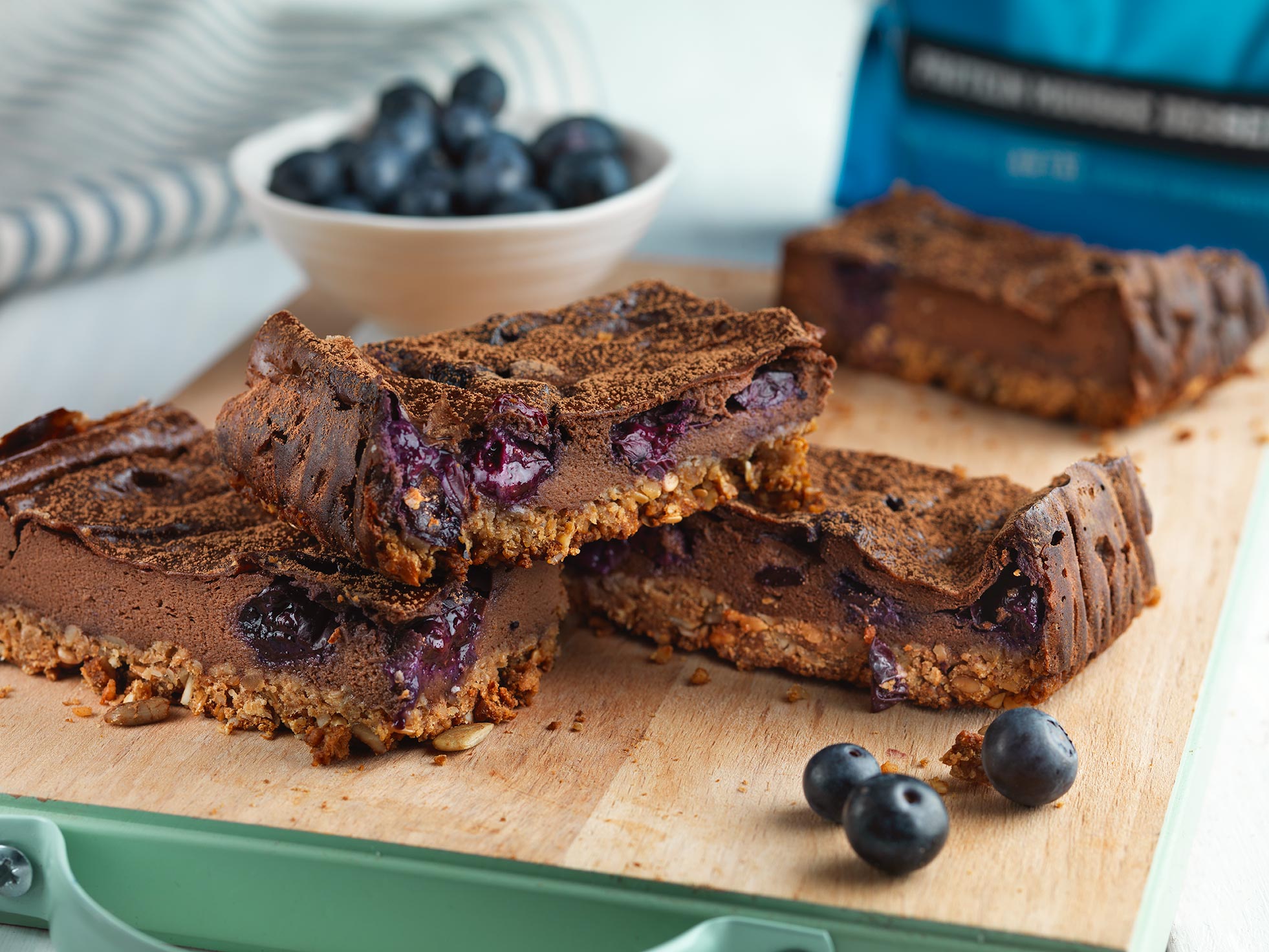 You can use the scoop in the bag of Muscle Mousse to measure most of the ingredients. It's best to use a 100% nut butter with no added salt or oil. We used peanut butter but you can use any nut butter. Makes 12.
3 scoops (105g) mixed seeds such as sunflower, pumpkin, sesame and linseed mix
1 scoop (30g) mixed unsalted raw nuts
3 scoops oats (75g)
1tbsp peanut butter
3 tbsp honey
4 scoops (100g) Chocolate Muscle Mousse
1 scoop raw cacao
500g Quark
1 scoop water
150g blueberries
Preheat the oven to 160°C fan/ 180°C conventional/ Gas 4.  Line an 18-30cm rectangular tin with baking parchment.
Tip the seeds and nuts into a food processor and blitz for a few seconds until roughly chopped. Add the oats, nut butter and honey, and whizz again for a few seconds until it makes a rough, crumbly mix. Tip into the tin and use the back of a wet spoon to press and  smooth into an even layer.
Bake for 10 minutes until just lightly golden then remove and leave in the tin to cool slightly.
In a large bowl, combine the Quark, cacao and water, then beat in the Muscle Mousse. Gently stir in the blueberries.
Spoon the topping over the base and smooth over the top. Place the tin on a baking tray and bake for 30-35 minutes – the filling will puff up but will sink back when cooled. Cool in the tin then dust with a little extra cacao and cut into 12 slices.