Donuts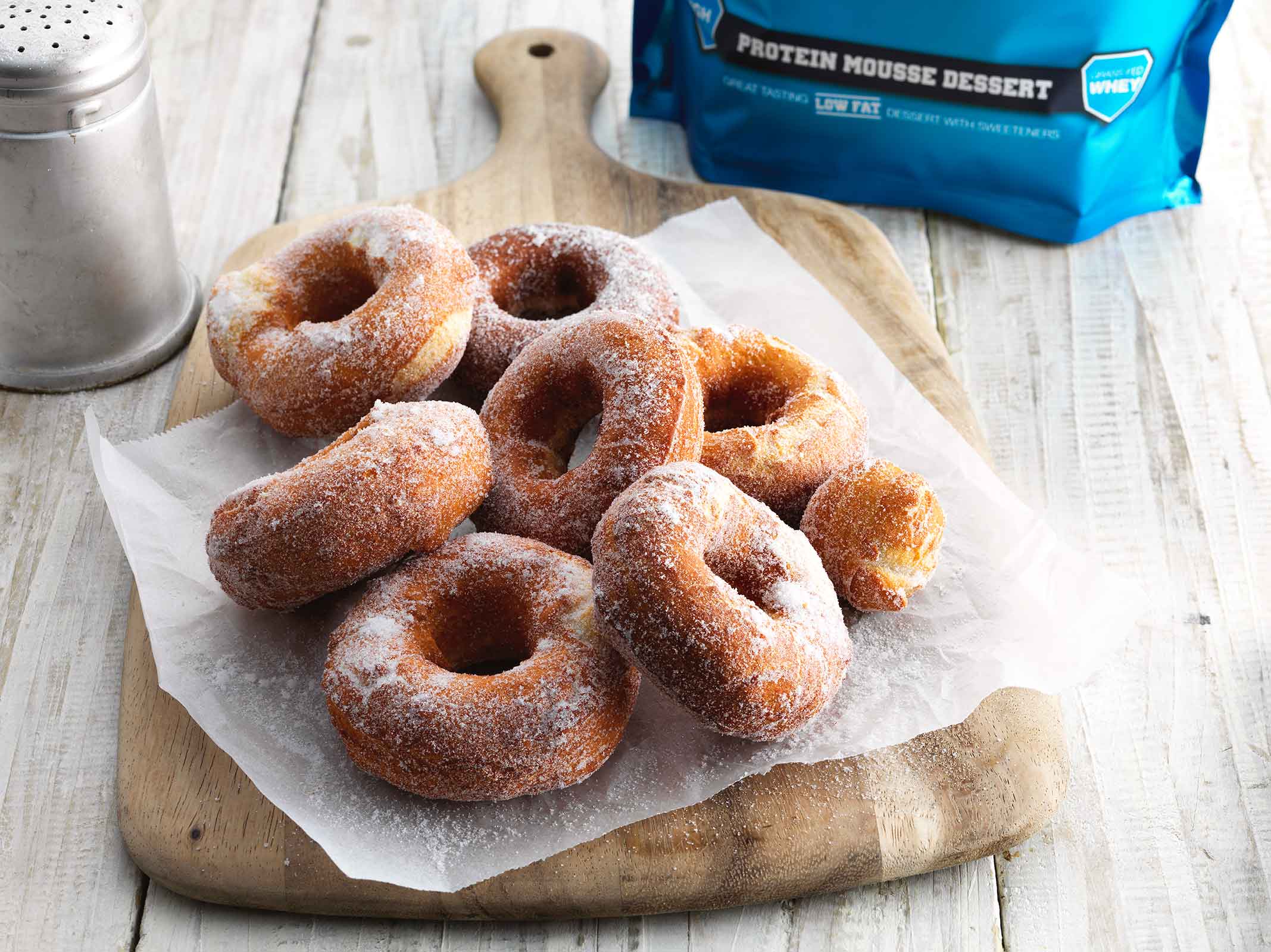 These Muscle Mousse donuts are quite simply amazing. Eat them warm for a taste sensation treat! This recipe makes 8 donuts – and one middle!
4 scoops (100g) Milky White Chocolate Muscle Mousse
225g plain flour
1tsp baking powder
1tbsp butter, melted
1tsp vanilla extract
175ml milk
Oil for frying
2tbsp caster sugar
Good pinch cinnamon
Heat a deep fat fryer to 170°C (not maximum temperature as the donuts won't rise properly if the oil is too hot). Mix the sugar and cinnamon together and set aside.
Mix the flour, Muscle Mousse and baking powder together in a large bowl.
In another small bowl, mix the vanilla extract into the melted butter. Make a dip in the centre of the flour and pour in the butter then the milk. Mix with a wooden spoon until combined, then tip onto a lightly floured board and knead for one minute, just to make the dough smooth.
Roll out the dough to 1-1½ cm thick. Pour a few drops of oil onto a plate and put a 7.5cm/3inch cutter and a 3.5cm/1½ inch cutter into the oil. Use the larger cutter to cut discs of dough then the smaller one to make the holes in the middle. Gather up the trimmings and the middles and repeat. You should be able to make 8 rings but you'll be left with 1 middle. That can be the chef's taster!
Gently lower the donuts into the oil with a slotted spoon, a few at a time. They will sink at first and will bob up to the surface after a few seconds. Fry for one or two minutes without turning, allowing the donut to rise and become fluffy. When golden, carefully turn with the slotted spoon and cook the other side. Lift onto a plate covered in kitchen roll to absorb any extra oil and fry the rest.
When all the donuts are cooked, place them into a large bowl with the sugar and cinnamon and shake lightly to coat.
Eat warm – mmm, tasty!