Pumpkin and Raisin Cookies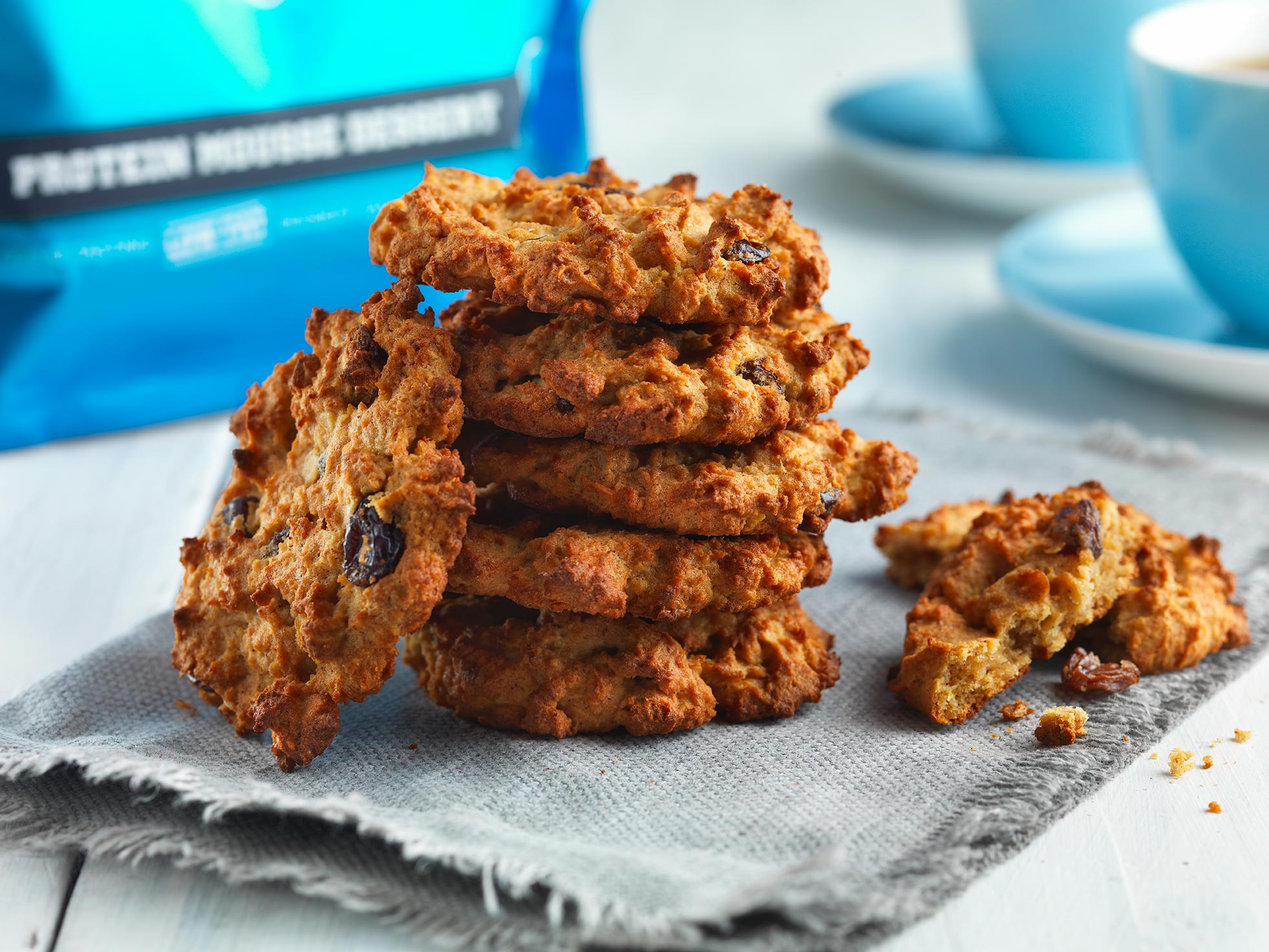 It's the season for pumpkin everything! Make the most of this time of year with our delicious pumpkin and raisin cookies. With added fibre and protein from linseeds and oats, these gluten free cookies will be a hit with everyone!
Makes approximately 20 cookies. Or ten big ones – for when bigger is better!
2 scoops (50g) Milky White Chocolate Muscle Mousse
50g ground almonds
50g gluten free plain flour
50g oats
1tsp gluten free baking powder
2tbsp milled linseeds
1tsp ground cinnamon
1tsp ground mixed spice
50g raisins
150g pumpkin puree (or butternut squash)
1 egg
75g unsalted butter, melted
2tbsp honey
Preheat the oven to 160°C fan/ 180° conventional/ Gas 4. Line one or two baking sheets with baking parchment.
Mix the Muscle Mousse, almonds, flour, oats, baking powder, linseed and spices in a large bowl and whisk briefly to combine. Stir in the raisins.
In a separate bowl, beat the egg with a fork and stir in the honey and pumpkin puree, then drizzle in the melted butter and stir.
Pour the pumpkin mixture into the dry ingredients and stir until well mixed and leave to rest for 5  minutes.
Place tablespoons of mixture onto the parchment lined sheets, spaced apart and flatten slightly. Bake for 15 minutes until golden and transfer to a rack to cool. Repeat with the rest of the mixture – you should get about 20 cookies.
To make the pumpkin/ butternut squash puree
Quarter the pumpkin/ butternut squash then de-seed and discard the fibrous inner. Carefully remove the skin with a knife then chop into roughly 20cm cubes.
Steam for 15 minutes until tender then allow to cool slightly.
Whizz in a food processor until smooth then keep refrigerated or freeze in batches.
Alternatively, quarter the pumpkin and cut each quarter into about 3 wedges. Roast in a deep baking tray with 1cm of water for about 40 minutes or until tender then scoop out the flesh and process until smooth