Tira "Moussou"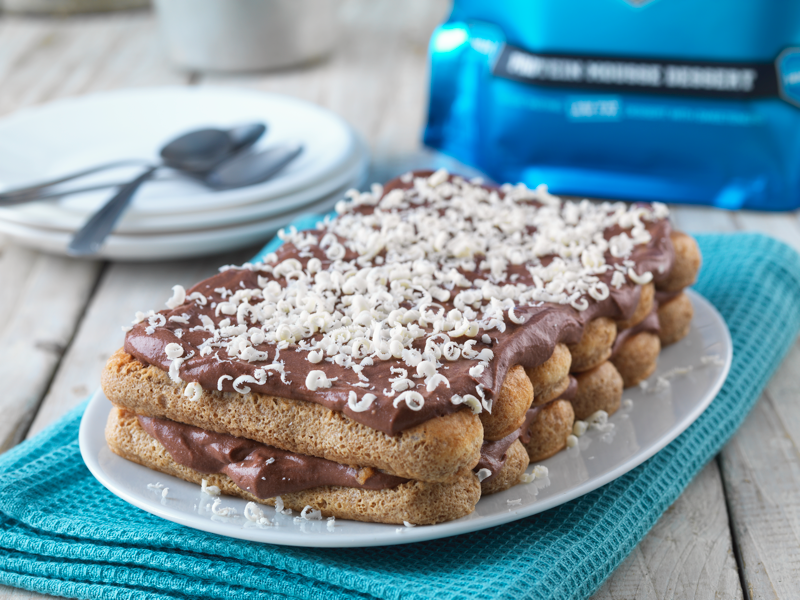 A variation of the Italian coffee dessert – with a Muscle Mousse twist!
For a change, try making with Milky White Choc Muscle Mousse instead and topping with grated dark chocolate.
Serves 3
200ml strong espresso or very strong black instant coffee
2 scoops (50g) Chocolate Muscle Mousse
50g mascarpone cheese
12 sponge finger biscuits
Small piece white chocolate to decorate
Make the coffee and set aside to cool.
Make up the Muscle Mousse with 100ml water and 50ml cooled coffee, mix well in a shaker bottle, then pour into a bowl, cover and refrigerate for half an hour.
Beat in the mascarpone cheese until smooth and return to the fridge.
Pour the remaining coffee into a shallow wide bowl. Dip 6 of the sponge fingers briefly into the coffee, turn them over and then remove and arrange neatly side by side on a large plate. Spread over half of the Muscle Mousse then repeat with the other sponge fingers. Spread the remaining Muscle Mousse over the top.
Grate the chocolate over the Muscle Mousse to decorate and return to the fridge until ready to serve.