White Chocolate Muscle Mousse & Pecan Blondies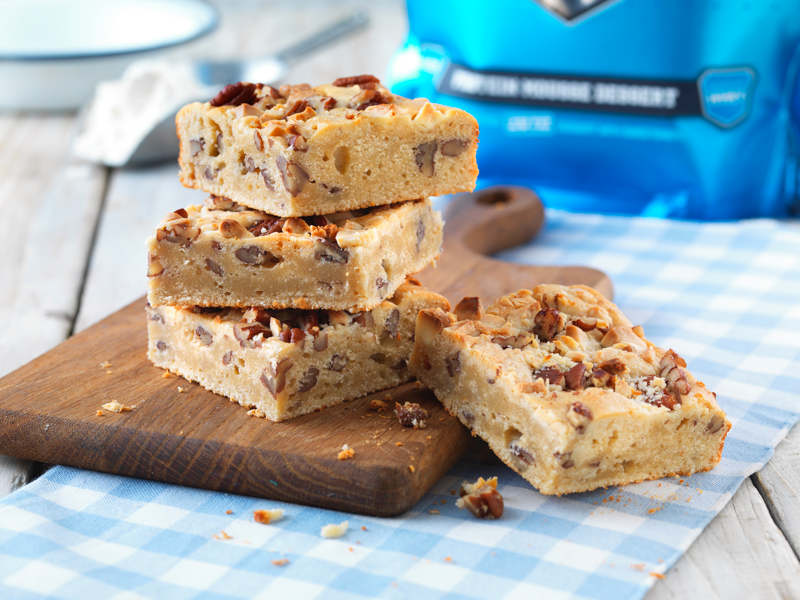 A variation of brownies but without the cocoa. The pecan nuts add a delicious flavour, nice texture and boosts your protein intake even more.
The recipe makes 16 smaller or 9 huge blondies.
150g butter
130g light soft brown sugar
4 scoops (100g) Milky White Choc Muscle Mousse
150g self raising flour
100g pecan nuts, roughly chopped
2 eggs, free-range
100ml water
50g white chocolate, roughly chopped
Preheat the oven to 170°C fan/190°C conventional/Gas 5. Line a 25cm x25cm square cake tin with baking parchment.
Melt the butter and stir in the sugar then set aside.
Mix the flour and Milky White Choc Muscle Mousse in a large bowl and stir in ¾ of the nuts.
In a separate bowl, whisk together the eggs and water. Gradually stir this into the melted butter and sugar and combine well.
Pour the egg mixture over the dry ingredients and mix until very well combined, make sure there are no lumps. Pour into the tin and smooth over the top if necessary, then sprinkle over the chopped white chocolate and remaining nuts.
Bake for 12-14 minutes then remove from the oven and cool on a wire rack (the middle may still look a bit undercooked but it will set a little whilst cooling). Cut into 16 squares. If you're feeling really hungry, cut into 9 very big squares!